Cement companies are investing in new age technologies
Arvind Kakru, Director Sales, Rockwell Automation, talks about the difference digitisation can make in the cement manufacturing and distribution processes, its long term impact and its contribution to the sustainability efforts of the industry as a whole.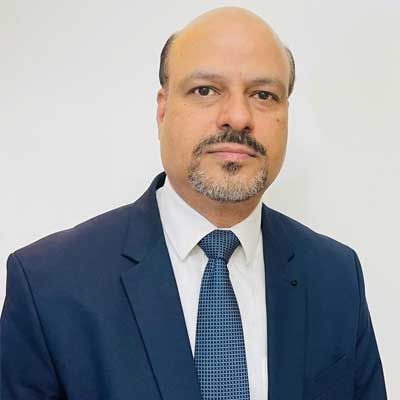 Arvind Kakru, Director Sales, Rockwell Automation, talks about the difference digitisation can make in the cement manufacturing and distribution processes, its long term impact and its contribution to the sustainability efforts of the industry as a whole.

How important is digital transformation in cement plants? How can it impact the business positively?
The cement plant of the future will have to focus on lower operating costs and higher asset values, which would mean higher energy efficiency, yield and throughput. The big levers for the cement plants would be carbon emission, yield and energy throughput, process utilisations, automations, and more.
The objective or the ultimate gains that people are looking at are demand driven production, streamline quality and compliance, data and knowledge driven efficiency, risk management and secure operation of the plant. A lot of it has to go from the smart manufacturing point of view, that would not only result in increasing the safety and automating the decision making but also improve reliability, increased efficiencies, improved process controls, reducing power consumption of their energy efficiency which is a big thing for cement plants. Also, looking at real time monitoring, reducing the carbon footprint and improving the operational flexibility. And there are some things that we potentially opt for as solutions around the smart manufacturing space would be smart yield optimisation, asset life cycle management, creative quality, intelligent machine manufacturing, productive asset reliability and much more. Such things possibly give access to technology led innovations, also go on a little deeper in meeting the regulatory compliance, which could be statuary in nature, related to quality, compliance or even manufacturing standards of the cement industry in general. Since we all know that cement is a big contributor to the carbon dioxide emission, and these solutions are not the solutions just from the operations point of view but sustainability point of view which is impactful.

What is the expected monetary investment by cement organisations to make their plants adapt to new digitalisation?
This would vary from plant to plants or manufacturer to manufacturer. Also, depending upon what stage of digital journey they are on right. , some people would be much more evolved and they already would have an investment, or seen business cases explained and executed. So, these are the people who possibly would spend much more.
People like us might be a little early in the cycle in that space. If I had to modify something, we would start from rupees forty to fifty lakhs, also which is around analytics and that could be used as a pilot case to be used to determine if there is a serious business case and that kind of investment would really pay off. Because the time for the execution would not be more than a few months and at the same point of time, the investment is not very much high. And they would possibly feel much more comfortable after evolving and evaluating that process and accordingly make the investments. This is a very little investment and such investments are coherent which means that can be evolved and still be connected with other sections of the plant that could be integrated at the later stage, they are scalable, and ultimately going plant wide or the enterprise wide. According to a McKinsey and Company study, estimates are that cement companies have seen about 6 to 12 per cent better optimisation from advanced analytics.
Other areas of benefit where small investments could result in big transformation could be processed digitalisation and process automation overall where 10 per cent to 15 per cent is the estimated gain on the productivity. So, Rs 40-50 lakh of investment could result in a much higher return of investment and possibly in less than a year. It could vary from a very small amount to ultimately a larger amount of capital expenditure which would be a few crore rupees but that could be distributed over a period of time. And if you go enterprise wide execution on the digital expansion or the digital roll outs for the programs looking at the multiple areas of the plant, process machinery, etc. it could go into a few years of capex and opex (recurring charges on the software that you possibly potentially upfront).

Multiple players in the industry are moving towards making cement production sustainable. How can your technology help in achieving those targets?
If you look at the labour for cement producers, they have increased in energy efficiency and use of alternate materials like fuel, raw materials, etc. The conventional measures to reduce carbon dioxide emission from cement manufacturing for further improvement in thermal energy efficiency and other innovative technologies that people keep on pursuing. This means all very significant in terms of transformation for the cement industry.
Talking about the commitment, by 2030 the cement industry contributes to possibly around 0.3 per cent annually, reducing the carbon emissions. So, process control becomes very critical to set your old machines to be very efficient, also making the plant connected which is a lot of technologies kept connected together because then you pull in individual resources and then get on to them at the corporate or an enterprise level which helps you look at everything like a dashboard or one consolidated level and that helps you to mind data through quality, production, process parameters and allowing operator to understand the energy consumption. Another big thing would be productive control, machine learning, etc. are some of the technologies that would be really helpful which possibly would help in productive maintenance forecasts. So when the failures occur, machine learning understands the forecasting orders and runs algorithms, which predict failures, categorises them, observe the pattern and notify the people who need to know the insights. They also reduce the down time to reduce the maintenance cost related to that.
AR, VR could be useful in space when you are looking at those downtimes, reducing them, and giving quality expert advice from remote rather than somebody physically travelling. This in turn results in quicker recovery or a turn-around time. Then there are things related to anomaly detection, which again comes from productive control or the machine learning part of cement operations such as grinding, blending, cooling, pre-heating. It detects failure or poor performance in the process and they also improve overtime making it easier for the cement plants to implement one or more solutions for persistent operative decision making. These are some of the areas, which really help in energy performance, lowering the operating cost, improving the quality like reduction of raw materials, fuels, and also emission related to greenhouse gas and reduction contribution, because of all these process improvements in digital programs.

Tell us about the technology supporting the 'Connected Cement Plant'.
You look at multiple levels in a particular program, one of the things is the devices operating on the shop floor or the manufacturing site. They have to be intelligent otherwise how will you get the data? So, we have to ensure that all of the data on the field level are intelligent devices, as in they have control over the process, they have sensors in place and have software connectivity which throws off the data on the larger enterprise level. Next is that when you connect these IoT gateways, you ensure connectivity with process control with power equipment along the field which is actually controlling your machine and equipment in a particular manufacturing environment. And from there on you take it to the next level where you are controlling and after the monitoring, observing and taking a lot of data over there. Which is helping in supply chain simulations, process optimisation, conditioning monitoring equipment and then throwing up to the next level, which is connecting all the third-party enterprises. And then look at process optimisation and then you connect them to a particular platform, which can be a scale up platform, control platform or an IoT platform related to visual analytics, remote monitoring, productive analytics and ultimately connecting to the enterprise and the business applications. You are connecting the suppliers of the market to the consumers. If you have that end-to-end visibility, it?s a great thing in terms of controlling the manufacturing operations, getting most out of your assets and design building, upgrading with confidence so as to take necessary decisions. We could see big things in the last two years during the Covid times and that is a helpful outcome of the digital process in a connected cement plant.

Cement plants often face challenges in understanding the fluctuating demand of the market. How can automation come to aid this challenge?
Cement countries are further exploring and investing in new age technologies, which includes artificial intelligence, machine learning, business analytics, and digital control towers to control and enhance supply chain and logistics visibility. Demand forecast helps in managing the demand and supply of the products – let?s say ready mix cement and complete supply and consolidated network of checkpoints, milestones, needs to be monitored for a very organised transaction. PwC (Pricewaterhouse Coopers) study says that digitised supply chains are the major revenue booster for cement manufacturing companies. An outgrown supply chain performs complex tasks from inventory, procurement to distribution of finished goods. Also, streamlines demand and inventory sourcing and distribution to the channel partners in the value chain overall. So, other than the inventory management, on the transportation side, how much fuel is consumed by the truckers is also monitored. We could optimise the transportation and make real time decisions on how demand is ramping up at some places or scaling down. If you also carry multiple operations, the states and geographies have varied rates of cement. So, one has to consider whether it is possible to transport from one manufacturing location to another region which is a more efficient manufacturing location and also profitable or not? It can even expand from the supply chain side of it all the fluctuating demand rate actually connecting with the operation and the top line and bottom line of the company.

How does The PlantPAx® distributed control system (DCS) help achieve efficiency in design and feature? How can the impact be quantified?
If you typically look at the DCS system of the cement plant, it has a behavioural pattern where the process automation includes instrumentation, power and control. So, there are electronics in the automation package which goes into the additional arenas as well also include control and instrumental package. We offer an open standard DCS distributed control system that has a flexible platform to address all ranges of plant sizes. It has a very high availability and redundancy to take care of running operation of the plant. There is no down time or failure. It has integrated diagnostics through which we are able to really look at what is happening right or wrong at your plant and accordingly take corrective actions. It has powerful and seamless connectivity with the field instrumentation and devices. The more connected you are the more ability you have in terms of looking at what is happening in a particular plant. And from there you can build up all the data which is at the heart of the system, then you have an embedded model equipped control with that you have premium integration with smart water control. So overall if you look at it there is simplified design, an improved operation, there is a safety and security part of it and its future ready enabled with the latest in the technology which can easily be connected with other intelligent devices across the manufacturing plant or any other place. It helps in manufacturing at the down time and is scalable. We have this feature in PlantPAx 5.0 onwards which reduces footprints and consistent delivery streamlining of workload, cyber security, and analytics enabled. It also results in empowering the operators and reducing the training cost for them. It also results in improved maintenance in all critical areas and helps in maintaining the availability. It enables decisions at a system level and also is very cyber secured and complied to ISA 99, ISA 62, which helps us to put in difference in depth solutions and help in making the process compliant, safe, secure and scalable.

Tell us more about the convergence of Information Technology (IT) and Operational Technology (OT) tools by Rockwell Automation. What is the return on investment a cement company expects on this technology investment?
Rockwell Automation is the company best known for its focus on Information Technology (IT) and Operational Technology (OT), we say we are the possibly the best company that has expertise in both areas. When we say convergence of IT and OT, the convergence of software and machinery in the production environment is assuring a new era of connected operations for a lot of industries and or cement also.
It offers enhanced levels of efficiency and opportunity for better decision making across all aspects of manufacturing and production. Connecting the process control measurement and safety system at a production site with IT infrastructure and application enables more connectivity for highly valuable time data and remote support. On the other hand, they want to minimise the risk of the outcome which can be managed in a very safe, secured and compliant way. There are multiple ways to integrate the process and ensure the information can flow freely across IT and OT systems, which would be to identify and align critical data facts to consider the entire supply value chain, fill in the security gap, set up for the third-party integration and enable capabilities.
If I look at securely converging IT and OT system which means potential, intentional network design and security at Rockwell Enterprises we address the cyber risk, connecting all asset converge plants via internet communications protocol, create an environment of real time resolution, and also look at the right execution standards and strategies, and maintain business continuity through implementation. It helps us to deliver the benefit to secure operation, reduce vulnerability and also achieve a lot of those benefits. In our own environment we tested in our factories, the annual production improvement included about 5 per cent apex, avoidance about 30 per cent inventory, in one particular case we reduced for 120-82 days and delivery went really good, also, the lead time was reduced by 50 per cent. It's really important for people to make those decisions and gains are really big.

Data plays a huge role in bringing operational and productivity efficiency by connecting assets, people and information. How does your organisation make that happen through digital automation?
We start with smart devices, smart machines at some place, which enables the data to be thrown up at the enterprise level. Then the process automation and the package power overall which results in overall operation efficiency and modern technologies here improve the performance of process, equipment and people. A smart device we have a smart device and manufacturing overall connecting all the individual cells in a particular manufacturing environment and then taking it to larger manufacturing. Then looking at third party integration, market visibility which is from mining to market right where our consumers are and connected workforce. At the same point of time, you throw up on the enterprise level a lot of data with the proper technologies you go into knowledge operation which means you offer solutions and enable better decision making. It's like an end to end process from a basic manufacturing level to going right up to the enterprise level offering solutions that help you look at your past historical data, real time data (the current data). Also, in some cases you can have the data of the future which shows predictions.

What kind of innovative technological solutions for the cement plants can be expected in the future from your organisation?
We have been looking at some of the solutions already with some of the other industries where we have taken a lead. Cement did not used to be organised before and now that we see a lot of things coming in from the market point of view, regulatory point of view, sustainability point of view, helping people or cement manufacturers or the decision makers who focus aggressively on some of these things.
Talking about advanced process control, which can be used to stabilise and optimise the key cement processes with the help of production increase in kilns and mills implications; and controlling of energy usage, which reduces in or helping in the reduction of process and quality variability. So, another thing was model productivity control, which optimises material blending, optimises thermal and commercial control for kilns. We would offer data analytics and IOT environment, advanced algorithms that help in improving yield, through good quality, energy, efficiency, etc. which also helps in Automated tracking of Overall Equipment Effectiveness (AOEE). Typically, it?s in a machine or a discrete manufacturing environment that is very critical. And also, advanced analytic enabled software to make strategies to improve quality or equipment reliability. Looking at operations if they are running as per plans, natural disasters and planning which have been helpful in the past for certain manufacturers, they offer new opportunities for digital collaboration, assistance for trouble shooting in some cases over a video, etc. can improve training needs, enhancing the safety of the workers to a large extent. It's very important to have a cyber security programme in place, which goes from identification to detection, to protection and finally helping in response and recovery quickly. Some of these strategies would help in ensuring that there is no cyber attack in the first place because your equipment, network is secured. Also model predictive control machine learning which really helps in utilising the mathematical models where MPCs used for responding changes to the process and variable. So, they help in reducing downtime and making the equipment much more efficient and making the process much more reliable.
– Kanika Mathur
Heidelberg Materials secures SBTi validation
The Science-Based Targets Initiative (SBTi) has validated Heidelberg Materials' new 2030 CO2 reduction targets. The targets have a base year of 2020 and conform to a 1.5°C climate change framework. Per tonne of cementitious material, the producer is now committed to reducing its Scope 1 CO2 emissions by 24 per cent, its Scope 2 CO2 emissions by 65 per cent and its Scope 3 emissions by 25 per cent.
Images Source: Google Images
FLSmidth increases cement business sales and earnings in 2022
FLSmidth's cement business recorded 29 per cent, year-on-year sales growth to US$2.14bn in 2022, from US$1.66bn in 2021. The business' earnings before interest, taxation and amortisation (EBITA) totaled Overall, FLSmidth's sales rose by 24 per cent, while its EBITA fell by 8 per cent, year-on-year.
Images Source: Google Images
Awards for Lafarge Africa
Lafarge Africa has won different awards for its contributions and achievements in sustainability and environmental performance as well as its commitment towards gender inclusion and diversity in the workplace in 2022. These are: the Award for Sustainability Reporting at the 2022 NGX Made of Africa Awards; the Eco-friendly Cement Manufacturing Company of the Year Award at the Environmental Sustainability Conference, Expo, and Awards 2022 (ECOSEA); Environmental Sustainability Professional of the Year for Titilope Oguntuge, the company's head for Sustainability & Corporate Branding, also at ECOSEA 2022 and; Most Outstanding Company in Gender Inclusion' (Extractive Industry) at the Women in Marketing Communications Award (WIMCA) 2022.
Images Source: Google Images