A perspective on ´Fibre based corrugated cement sheets´
John Nicodemus, Executive Director, The Fibre Cement Products Manufacturers? Association
There is wide spread misunderstanding about use of asbestos and products made out of Asbestos. In few of the countries mainly in Europe it has been banned, however in many other countries like U.S.A., Canada the use is still allowed. We were in Q &A session with John Nicodemus of ?The Fibre Cement Products Manufacturers? Association? a body which represents the cement based corrugated sheet manufacturers. He has tried to throw light on some of the facts and myths associated with asbestos cement products.
What is Chrysotile Asbestos Fibre?
Asbestos is a naturally occurring mineral found in underground rock formations. For commercial purposes, it is recovered by mining and rock crushing. Fine fibres, invisible to the eye, are present in the air and water in every region of the globe. Hence, all of us may be inhaling and also ingesting them through drinking water every day. ?Asbestos? was a commercial term given to collective group of 6 naturally occurring minerals whose crystals occur in fibrous forms. Though commonly referred as ?Asbestos? these 6 silicate minerals come from two distinct groups and are chemically and mineralogically different. There are two distinct varieties of asbestos (i) Serpentines (Chrysotile white asbestos) and (ii) Amphibole variety comprises of amosite, (brown asbestos), crocidolite (blue asbestos), tremolite, actinolite, and anthophyllite, Mining, production and usage of Amphibole variety of asbestos have been prohibited all over the world for decades now as they are considered un-safe.
Only Chrysotile variety of fibre (white asbestos), which is considered safe to use under controlled conditions, is in commercial use now. Indian asbestos cement sheet and pipe manufacturers also use only chrysotile variety which incidentally is all imported mostly from Russia, Kazakhstan and Brazil. Canada?s and Zimbabwe?s production and exports have become rather insignificant of late.
Chrysotile asbestos fibre is also mined in India in minuscule quantities and so is not of any consequence. Chrysotile asbestos fibre, (composed mainly of magnesium and silica), is a great reinforcing agent. While its tensile strength is greater than steel, it has other rare and highly valued fire-retardant, chemical-resistant and heat-insulating qualities. In fact it is a magic mineral.
Bio-persistence studies have been carried out on number of different respirable particles. Regarding asbestos fibres, it was repeatedly demonstrated that chrysotile displays low bio-persistence, as opposed to the amphibole asbestos fibre types which display exceedingly long bio-persistence.
What are Fibre-Cement (AC) products?
AC products are made with a mix of chrysotile fibres (7-9 per cent), cement (about 40 per cent), Fly Ash (about 30 per cent) and the rest being wood pulp and water. Over 95% of chrysotile asbestos fibre imports of India go in to chrysotile-fibre cement sheet and pipe production.
AC Sheets have been used in India for over 80 years. Being weather-proof fire resistant, non-combustible, and corrosion resistant, these sheets are durable practically ageless and maintenance free, whereas metal sheets corrode and deteriorate with age and exposure.
AC products, which consume low energy in manufacture and do not in any way deplete the natural resources, meet the needs of the country in its developing economy in the context of rapidly rising population and limited resources. AC products are manufactured under (ISI) licence strictly conforming to the specifications of Bureau of Indian Standards. IS 459/1992 for Corrugated Roofing Sheets, IS 2098/1997 for Building Boards, IS 2096/ 1992 for Flat Sheets and IS 1626 (Part III)/ 1994 for Roofing Accessories. AC Pressure Pipes are covered by IS 1592/1989.
Explain the negative reports on Asbestos Fibre.
The bias against the use of asbestos fibre in a few countries is due to the adverse Western media coverage relating to altogether different usages of Amphiboles ? brown and blue asbestos – in the past in those countries i.e. sprayed on asbestos and friable low-density asbestos insulation used under uncontrolled conditions at that time due to lack of adequate scientific knowledge.
The severe health problems arose in the distant past in the Western countries because of use of mixed fibres, predominantly blue (crocidolite) fibre in various applications, such as spraying, with dust levels going up to 100s of fibres / cc and beyond. But currently the only variety of asbestos used in chrysotile fibre cement roofing products and pipes is ?chrysotile?.
According to scientific research by Dr David M. Bernstein and the emerging bio-persistence data, chrysotile variety of asbestos, even if inhaled in accepted levels, clears from the lungs within 3 to 11 days. But crocidolite, and other amphibole varieties of fibres may take up to 500 days for clearance from the lungs because of very high iron content and therefore have been determined as a major health risk and consequently banned all over the world. But the safer chrysotile variety?s usage is allowed.
Though these particular usages of amphibole varieties have since been discontinued, the claims relating to the past keep appearing in the media resulting in general confusion. (there is no such usage in India or anywhere in the world now).
But, once the scientific research into the risks of asbestos was set in motion, development and installation of pollution control systems took place, enabling the asbestos mining and asbestos cement industries to maintain safe and acceptable levels of dust pollution at the work places.
Once the permissible levels of exposure were defined, the Governments have stepped in and laid down pollution control regulations and the mechanisms to enforce their compliance.
What is the situation in India?
In India, only the chrysotile variety of asbestos fibre, which is considered safe, is used in asbestos-cement products, namely, sheets and pipes. The fibres are mixed and bonded with cement and other raw material, with no chance of escaping into the atmosphere on normal usage.
Workers in asbestos-fibre-cement product industry in India have not had any adverse health effects in spite of decades of service, there being no risk of exposure to asbestos dust because of pollution control measures installed in the factories. Health of the workers is closely monitored as per directives and regulations of the government agencies.
India uses only about 20% of the chrysotile asbestos produced in the world. The rest is used in several other countries, where too, these chrysotile fibre cement products are accepted as ideal and safe. The Russian Government Decree No. 869 of July 1998 stated ?Excessively hasty and not well founded refusal to use chrysotile asbestos does not have a sufficient medical and biological substantiation and can bring about serious negative consequences for economy of a great number of countries. The ban in some countries did not consider national social and economical interests, scientific research results nor the latest scientific and technical achievements regarding production and use of chrysotile asbestos?.
Are there any court rulings on Asbestos Fibre Usage?
Concerns caused by the past medical findings in the Western countries, when asbestos applications were indiscriminate and bereft of pollution controls, resulted not only in anti-asbestos media campaign and litigation, but also led some environmental activists and NGOs to the Courts appealing for effective remedies.
The Hon?ble Supreme Court of India has, in Jan 1995, disallowed one such appeal and permitted the continued usage of asbestos and asbestos products, as the petitioners failed to produce evidence to prove that asbestos-based items or their manufacturing process in India were dangerous to health.
Again in January 2011, the Hon?ble Supreme Court turned down another petition to ban asbestos for lack of evidence about the health risks arising out of asbestos.
Are Asbestos and Asbestos-Fibre-Cement products still used in other countries?
There is no ban on production or usage of asbestos-fibre-cement sheets or pipes in USA and Canada and in about 77 per cent of the other world nations. Very few countries have regulations restricting use of asbestos based products due to high economic development, improved standards of living and changed life styles. The USA and Canada still import AC pipes for water transportation. The USA also uses some quantities of asbestos for use in the space rocket launching equipments. According to US Geological Survey, during the year 2014, even some of the countries in the European Union have imported small quantities of asbestos for specific uses. These countries include Spain, UK, Romania, Slovakia, Peru, South Korea, Czech Republic, Austria, Bahrain. In 2013, France, Germany, Italy, Argentina had imported some asbestos. Obviously for usage in some critical applications, where no effective substitute to chrysotile could be found in spite of researches.
Canada and USA are said to still import chrysotile asbestos pipes for potable water carriage.
Is it wrong to use Asbestos Fibre pipes for carrying drinking water?
No. Even the World Health Organization has approved the usage of AC pipes for drinking water. As stated earlier, the most health-conscious USA and Canada use AC pipes for drinking water transportation.
Inputs are given by John Nicodemus, Executive Director, The Fibre Cement Products Manufacturers? Association
Extract of the policies adopted by Government of India on use of asbestos The Ministry of Industry, Government of India, in July 1997, has in de-licensed the industry. The only requirements are approvals from the State Pollution Control Boards and the Central Ministry of Environment, Forests & Climate Change.
The National Study on Work Environment in Asbestos Products Manufacturing Industry was conducted by the Central Labour Institute, Ministry of Labour, Govt. of India in the year 2004/ 05 in which 702 workers exposed to asbestos had participated. The duration/ period of their exposure ranged from 6 to over 20 years. The conclusion of the Study: ?No established case of asbestosis was detected during the Study?.
The Ministry of Environment, Govt. of India has been giving approvals for setting up new units for manufacture of asbestos based products after evaluating the environmental issues and stipulating various safeguards.
The Ministry of Industry, Ministry of Labour, Ministry of Environment, Ministry of Consumer Affairs, Bureau of Indian Standards, etc. have laid-down regulations, standards, guidelines and recommendations specific to the asbestos industry, in line with those of International Labour Organization, World Health Organization and other bodies. The Central and State Pollution Control Boards, Labour and Factory Inspectors also regularly monitor the factories? compliance with the mandatory safety standards and pollution control levels.
In India, asbestos-cement industry strictly implements the provisions and recommendations of International Labour Organization?s Convention No. 162 titled Safety in the Use of Asbestos ? to ensure safety in the use of asbestos.
And also complies with the Model Rules of the Minstry of Labour relevant to this industry under the Factories Act.
Table 1: Some Misconceptions
MYTHS:
FACTS:
Asbestos cement is dangerous material.
Asbestos cement is completely safe. It is not corrosive, reactive, ignitable or
toxic.
Inhalation of even one fibre of asbestos
is harmful.
Thousands of asbestos fibres, invisible, are inhaled by us everyday from natural
resources, and cleared off by natural clearance mechanisms without any harm.
Asbestos cement has only 7-9% asbestos fibre that is bound with cement and
cannot be released into air. Even if any fibre is released, it?s chemical characteristics
change because of bonding with cement and it cannot be called asbestos fibre.
Asbestos cement water pipes cause colonic
carcinoma and other diseases.
Asbestos fibres in water are ingested without any harm whatsoever. Therefore
the AC water pipes pose no threat. Even the World Health Organization permits
use of chrysotile asbestos cement pipes.
Developed countries have banned
asbestos cement products. Only poor
countries need it
No prohibition of asbestos products in over 77% of world nations.
Asbestos cement production is
banned in the USA
The US Court of Appeals rejected a proposed ban on scientific grounds.
Asbestos-cement products are not banned in the USA.
Comparison between AC pipes and others
UPVC pipes
Ductile iron pipes
AC pipes
Life span
20 to 30 years
20 to 30 years
50-60 years
or more
Current prices
17-18% more
expensive than
AC pipes
80 to 85 % more
expensive than
AC Pipes
Other
characteristics
Susceptible to
high temperatures
and hydrocarbon
contamination
and breaking at joints
Being heavier, incur
higher transportation
and installation costs.
Also carry risk
of leakage due to corrosion.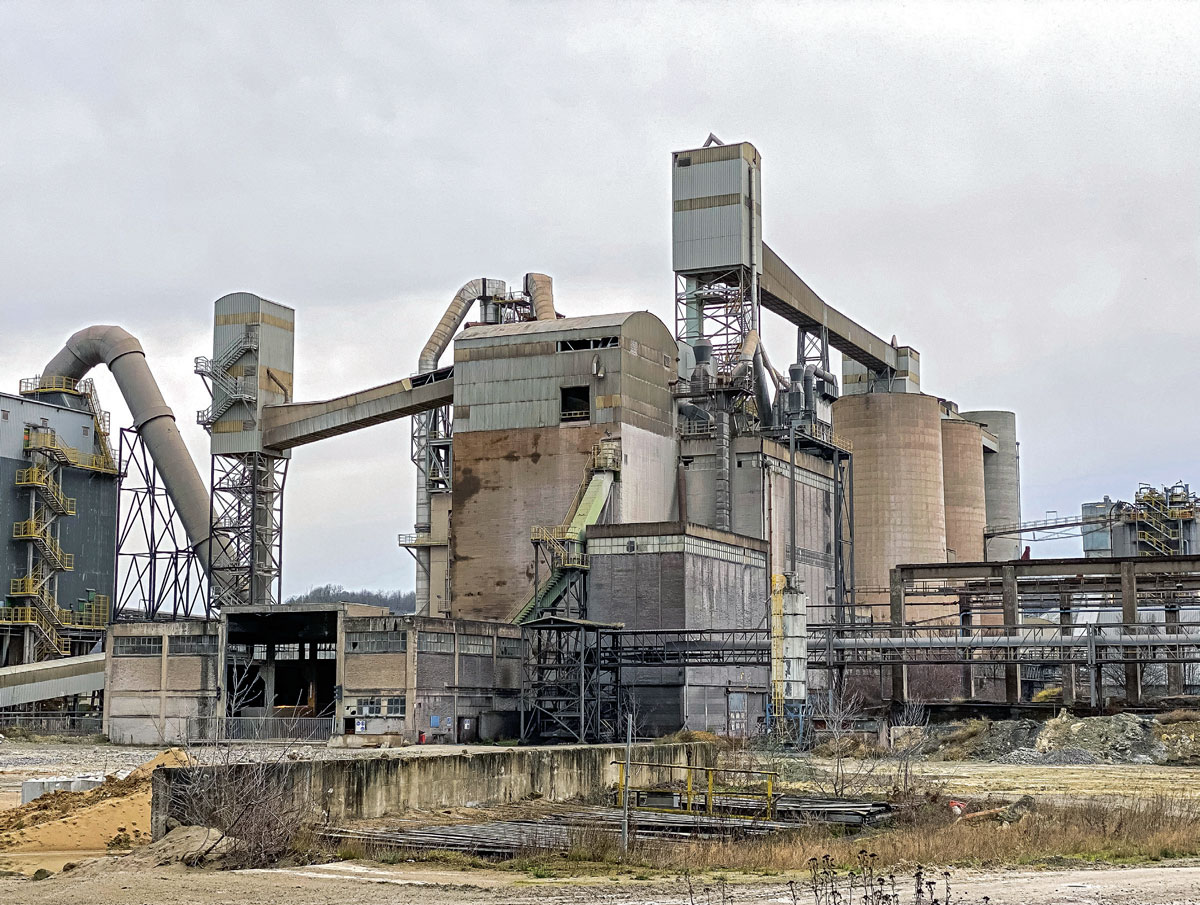 Supplementary cementitious materials are changing the way and the speed at which cement manufacturing is moving on the spectrum of environment sustainability. With large stakes on the line for achieving net zero targets, how is the Indian cement industry rising up to the challenge, finds out ICR.
Across the globe, cement is one of the most consumed and important materials for building all infrastructure. From homes, to factories, roadways or tunnels, everything would require cement in one form or the other. India especially is moving towards becoming infrastructurally strong with new projects in the works across the sub-continent. All infrastructural projects demand the consumption of concrete and cement, which has led to the rise of concrete requirement, thus, increasing the production of cement.

India is the second largest producer of cement. Limestone is at the core of its production as it is the prime raw material used for production. The process of making cement involves extraction of this limestone from its quarries, crushing and processing it at the cement plant under extreme temperatures for calcination to form what is called a clinker (a mixture of raw materials like limestone, silica, iron ore, fly ash etc.). This clinker is then cooled down and is ground to a fine powder and mixed with gypsum or other additives to make the final product, cement.
Limestone is a sedimentary rock composed typically of calcium carbonate (calcite) or the double carbonate of calcium and magnesium (dolomite). It is commonly composed of tiny fossils, shell fragments and other fossilised debris. This sediment is usually available in grey, but it may also be white, yellow or brown. It is a soft rock and is easily scratched. It will effervesce readily in any common acid. This naturally occurring deposit, when used in large volumes for the cement making process is also depleting from the environment. Its extraction is the cause of dust pollution as well as some erosion in the nearby areas.
The process of calcination while manufacturing cement is the major contributor to carbon emission in the environment. This gives rise to the need of using alternative raw materials to the cement making process. The industry is advancing in its production swiftly to meet the needs of development happening across the nation.
Aligning Sustainability Goals
In one of its recent bulletins, owing to India's announcement at the Glasgow Climate summit to reach net-zero by 2070, the RBI noted that with India aiming to reach half of its energy requirements from renewables and reduce the economy's carbon intensity by 45 per cent by 2030, it 'necessitates a policy relook across sectors, especially where carbon emission is high' and 'cement industry is one of them.' However, it said, recent developments in green technologies, particularly related to reverse calcination, offer 'exciting opportunities' for the cement sector.
The RBI report noted that India's cement production is expected to reach 381 million tonnes by 2021-22 while the consumption is likely to be around 379 million tonnes, in the light of the country's renewed focus on big infrastructure projects like the National Infrastructure Pipeline, low-cost housing (Pradhan Mantri Awas Yojana), and the government's push for the Smart Cities mission is likely to drive demand for the cement in future. On similar lines, according to the Eco-Business news portal report of April 2022, the India Energy Outlook 2021, which notes that most of the buildings that will exist in India in 2040 are yet to be built. Their projection suggests that urbanisation in the near future will demand an increase in infrastructure, which will ultimately lead to increase in the cement consumption.
With these forecasts in mind, RBI has recommended that there is a need to align India's economic goal with its climate commitments by implementing emerging green tech solutions. It has also recommended an increase in finance towards green sustainable solutions through subsidised interest loans, proactive engagement with the leading research institutes and countries involved with green tech-related innovation in the cement industry.
"When clinker is blended with other supplementary cementitious materials like fly ash, slag or both, products are called Portland Pozzolana Cement (PPC), Portland Slag Cement (PSC) and composite cement (CC) respectively. Blended cement products have a much lower carbon footprint than OPC. Since clinker manufacturing is the phase where most thermal energy is consumed and CO2 is emitted, reducing clinker factor in cement not only results in lowering the process CO2 but also the thermal energy and electrical energy requirements,'' says Manoj Kumar Rustagi, Chief Sustainability and Innovation Office (CSIO), JSW Cement.
Alternative Raw Materials
Alternative cementitious materials are finely divided materials that replace or supplement the use of portland cement. Their use reduces the cost and/or improves one or more technical properties of concrete. These materials include fly ash, ground granulated blast furnace slag, condensed silica fume, limestone dust, cement kiln dust, and natural or manufactured pozzolans.
"Each material has its own composition and behaves differently during the burning process. In order to maintain the consistent clinker quality and stable clinkerisation process, we need to analyse these materials with respect to quality (during raw mix design) and also impact on the environment (if any harmful gases are released). There are certain materials which come in both ARM and cement additives like Ashes from coal fired thermal plants and slag from steel plants that have to be looked at from various angles," says Gulshan Bajaj, Vice President (Technical), HeidelbergCement India.
The use of these cementitious materials in blended cements offers advantages such as increased cement plant capacity, reduced fuel consumption, lower greenhouse gas emissions, control of alkali-silica reactivity, or improved durability. These advantages vary with the type of alternative cementitious material.
Cement manufacturers are moving towards incorporating these supplementary cementitious materials in their raw material:
Fly Ash: Containing a substantial amount of silicone dioxide and calcium oxide, fly ash is a fine, light, glassy residue generated during ground or powdered coal combustion.
Ground Granulated Blast-furnace Slag (GGBS): It is a by-product of the iron and steel industry. In the blast furnace, slag floats to the top of the iron and is removed. GGBS is produced through quenching the molten slag in water and then grinding it into a fine powder. Chemically it is similar to, but less reactive than, Portland cement.
Silica Fume: It is a by-product from the manufacture of silicon. It is an extremely fine powder (as fine as smoke) and therefore it is used in concrete production in either a densified or slurry form.
Slag: It is a by-product of the production of iron and steel in blast furnaces. The benefits of the partial substitution of slag for cement are improved durability, reduction of life-cycle costs, lower maintenance costs, and greater concrete sustainability. The molten slag is cooled in water and then ground into a fine powder.
Limestone Fines: These can be added in a proportion of 6 to 10 per cent as a constituent to produce cement. The advantages of using these fines are reduced energy consumption and reduced CO2 emissions.
Gypsum: A useful binding material, commonly known as the Plaster of Paris (POP), it requires a temperature of about 150OC to convert itself into a binding material. Retarded plaster of Paris can be used on its own or mixed with up to three parts of clean, sharp sand. Hydrated lime can be added to increase its strength and water resistance.
Cement Kiln Dust: Kilns are the location where clinkerisation takes place. It leaves behind dust that contains raw feed, partially calcined feed and clinker dust, free lime, alkali sulphate salts, and other volatile compounds. After the alkalis are removed, the cement kiln dust can be blended with clinker to produce acceptable cement.
Pozzolanas: These materials are not necessarily cementitious. However, they can combine chemically with lime in the presence of water to form a strong cementing material. They can include – volcanic ash, power station fly ash, burnt clays, ash from burnt plant materials or siliceous earth materials.
Dr Sujit Ghosh, Executive Director – New Product and R&D, Dalmia Cement (Bharat), says, "Blended cements made using supplementary raw materials, have 'additional' activated silica (SiO2) and/or activated lime (CaO), which when co-processed with cement clinker, provide 'additional' cementitious gel paste (complex calcium-silica-oxide-hydrates) when mixed with water, that renders improved strength and durability to the cement-concrete structure."
He adds, "With specialised processing and with the use of performance enhancers, blended cements using supplementary raw materials, provide acceptable rate of strength gains, comparable to pure-clinker cement and top-class long-term durability, with lower carbon footprints and at the same time effectively finding value-solution to other industry wastes!"
Besides having the advantage of lower emissions and better environmental conditions, use of supplementary cementitious materials also has a cost benefit. "Cost of production depends on the plant location, limestone and raw material quality. The source of alternative raw materials for some plants are significant and in some instances because of high logistic cost economics do not work out. For example, if a cement plant is located near the industry where chemical gypsum is generated, there will be a significant gain to that particular cement plant," says Rajpal Singh Shekhawat Senior General Manager (Production and QC), JK Lakshmi Cement.
Bio Solutions
Researchers at the Indian Institute of Technology, Madras, are finding ways to use bacteria to develop bio-friendly cement and reduce carbon dioxide emission, as per a report in The Hindu earlier this year.

Professor GK Suraishkumar and assistant professor Nirav Bhatt in the Department of Biotechnology and Subasree Sridhar, a research scholar, are conducting the research. They have developed a mathematical model to produce an alternative to current cementation process. They have suggested the use of bacteria like S Pasteurii, which will microbially-induced calcite precipitation.
This bio cement will require temperatures in the range of 30 to 40 degrees as opposed to the traditional process that would require over 900 degrees for the calcination process. The emitted carbon dioxide will be negligible in this case and industrial waste like lactose mother liquor and corn steep liquor can be used as the raw materials for the bacteria, thus making the manufacturing of this cement more economical.
One of the most important ways of reducing carbon emission in cement manufacturing is the use of alternative raw materials from various other industries. This gives way to a circular economy, utilising waste from other industries and bettering the environment with reduced emission of harmful gases, especially carbon dioxide. It also helps the avoidance of landfills or ocean pollution, as waste of industries is utilised in manufacturing cement. Overall, new compositions of cement are the future.
-Kanika Mathur
FLSmidth unveils world's largest clay calcination solution
A new clay calcination project by FLSmidth in Ghana marks a key milestone in the green transition of cement production.
FLSmidth will deliver equipment to replace cement clinker with environmentally friendly clay, cutting up to 20 per cent of CO2 emissions compared to current practices on site. The order includes the world's largest gas suspension calciner system and acomplete grinding station adding another 120 per cent grinding capacity. Using calcined clay to minimise the need for traditional, carbon-intensive clinker is a key technology in eliminating the environmental footprint from cement production. "Calcined clay cements are the most sustainable alternative to traditional clinker-based cement. With the support from FLSmidth, we will be able to operate clay calcination in a large scale," said Frédéric Albrecht, CEO, CBI Ghana Ltd.
EU states agree on a carbon border adjustment system for cement
The European Union's 'Fit for 55' package includes a carbon border adjustment system for cement, which is one of the major aspects.
This environmental measure's main goal is to prevent carbon leakage. It would also urge partner countries to implement carbon pricing measures in order to combat global warming. CBAM does so by focusing on carbon-intensive product imports in full compliance with international trade rules, in order to avoid offsetting the EU's greenhouse gas emission reduction efforts with imports of products made in non-EU countries with less ambitious
climate change policies than the European Union.